The Youth Advisory Council is a student leadership group interested in staying substance-free and making a positive impact in their school and the community. Our youth councils work on prevention-related educational activities that are student-focused, such as
Use Your Cube
and
SAMHSA's National Prevention Week.
National Prevention Week
is an annual health observance dedicated to increasing public awareness of substance use and mental health disorders. Our Youth Advisory Councils create projects for National Prevention Week that promote awareness around Preventing Underage Drinking and Alcohol Misuse and Preventing Prescription and Opioid Drug Misuse.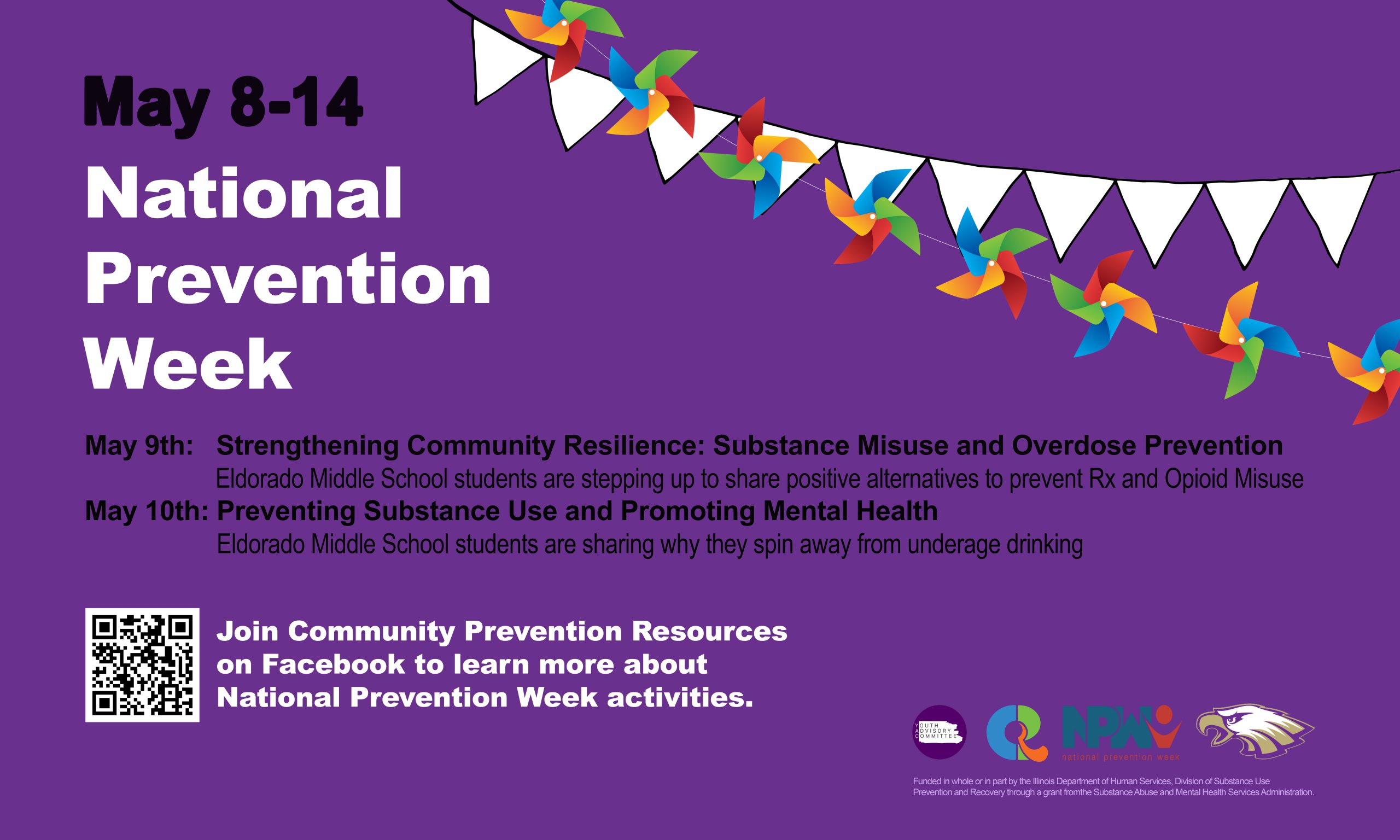 [ELDORADO, IL] – Area middle school students are stepping up and spinning away from substance misuse. To create awareness for National Prevention Week, Eldorado Middle School students and their Youth Advisory Committee want to show why most of their peers are choosing to stay substance-free. EMS has partnered with the Regional Office of Education #21, and Community Prevention Resources for SAMHSA's National Prevention Week May 8-14, 2022. EMS decided to make a difference by focusing on awareness days dedicated to Strengthening Community Resilience: Substance Misuse and Overdose Prevention (May 9) and Preventing Substance Use and Promoting Mental Health (May 10).
Students identified hanging out with friends as one of the top reasons that keeps them away from substance use, so Eldorado's Youth Advisory Committee showed their support by renovating the courtyard to create a gathering space for their school community. To build community resilience, students painted stepping stones and rocks that highlight positive alternatives to prescription and opioid misuse. Students also shared how they support positive mental health and why they spin away from underage drinking with large pinwheels and a pinwheel tunnel that all the students can sign to show their support.

To reach their parents and community, students will be posting on social media about the project and sharing related positive alternatives and facts.

Support for this project has been a community effort! Thank you to these generous businesses: Raleigh Ready Mix in Raleigh, IL, Home Depot in Marion, IL, Casey's General Store in Eldorado, IL, Eldorado Hardware Eldorado, IL, S.R.W. Inc. in Benton, IL, and Burkdell Mulch in Benton, IL

For more information, visit: samhsa.gov/prevention-week/about